Στο cafago μπορείς να βρεις σε προσφορά το Multifunctional 16 Lines Laser Level 3° Self-leveling Function Leveling Tool με κόστος που αγγίζει μόλις τα 47 ευρώ. Είναι ιδανικό για ποικίλες χρήσεις, όπως δάπεδα, τοποθέτηση πλακιδίων, επένδυση τοίχων, ταπετσαρίες, τελειώματα ξυλουργικών εργασιών, τοποθέτηση πριζών και διακοπτών,κ.α.
Αγόρασέ το από το cafago στα 47 ευρώ εδώ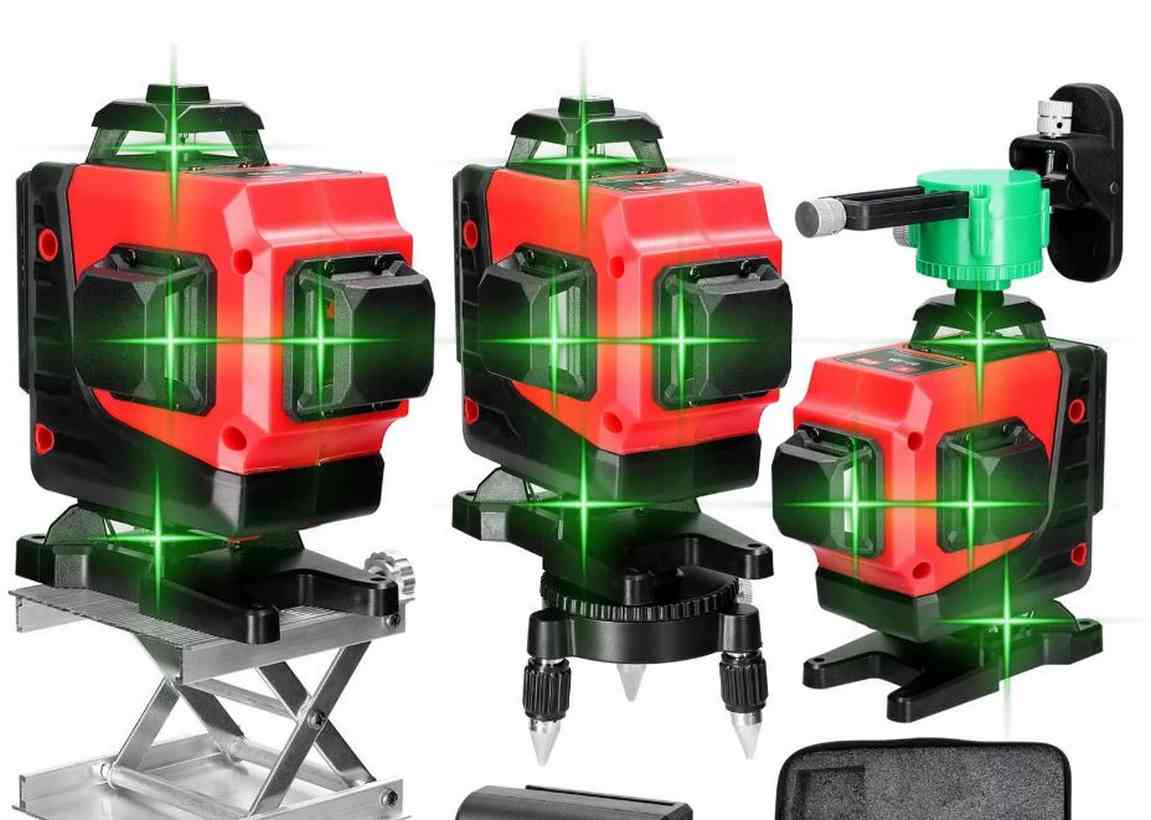 Features:
Adopts optical glass, fine transmission, with clear laser light.
16 lines for finer positioning, with self-leveling system, flexibility and stability.
Equipped with self-test calibration function, ≤3° automatic leveling, but if the angle is over 3°, the laser light will keep blinking and also has beep sound to reminding you to reset them on a flat ground.
Alarm function beyond the safety ranges.
The magnetic-damping compensation system ensures quick levelling time.
5/8″ screw size for easy connection, it can be used with tripod to adjust the working height of the machine.
Comes with one T-type wall mounting bracket, 7mm wall mounted distance, general for indoor and outdoor use.
Comes with one tripod base with 360° rotatable design, 5/8″ male and female 5/8″ thread, for easy to connected with 5/8″ laser level and 5/8″ bracket.
The laser level lift bracket, height adjustable, anti-slip texture design for increasing friction, more stable placement.
Two touching buttons design, one V button, and one H/OUT button, the oblique line, horizontal line and vertical line with a clear division.
The button is wear resistant, with high sensitive to switch the line mode quickly, and with comfortable hand feeling.
Comes with one remote controller, "H"=vertical line, "V"=horizontal line, and you can adjust the quantity of laser lines easily by press the "+"or "-" button, and press "*" button to adjust the brightness of laser light(two gears of brightness adjustable).
Scanning QR code on the back of remote controller to download mobilephone APP, convenient to control the level machine.
Connect the APP through BT, also has one-key on/off and voice control function.
Comes with 1pcs laser target plate, with both metric and imperial units, and bracket on the back of the board for easy installing on the wall.
Easy to carry with the carrying bag, providing quick and convenient mobility and storage.
Note: Please do not let the laser line shoot to your eyes directly.
Specifications:
Name: Laser Level
Main material: plastics metal
Battery: 2 * rechargeable lithium battery, 3.7V, 1200mAh (included, you will find there are two batteries inside if disassemble it)
Laser ray: 360°* 4, 16 lines(4D)
Wavelength: green light 520nm
Horizontal/vertical accuracy: ±1mm/7m
Self-levelling-range: ±3°
Waterproof grade: IP54
Working distance: 10m
Green light working temperature: -20℃ to 40℃
Level machine size(assemble with battery): 152 * 93 * 155mm / 5.98 * 3.66 * 6.10in
Rotation base: 92 * 82 * 77mm / 3.62 * 3.23 * 3.03in
Wall mounted bracket size: 157 * 85 * 71mm / 6.18 * 3.35 * 2.80in
Platform size: 115 * 91 * 27mm / 4.53 * 3.58 * 1.06in
Iron board size: 101 * 61 * 12mm / 3.98 * 2.40 * 0.47in
Carrying bag size: 270 * 215 * 165mm / 10.63 * 8.46 * 6.50in
Item weight: 1640g / 3.62lb
Package size: 300 * 220 * 190mm / 11.81 * 8.66 * 7.48in
Package weight: 1867g / 4.12lb
Packing List:
1 * Level Machine
1 * Rotation Base
1 * Wall Mounted Bracket
1 * Iron Board
1 * Lifting Platform
1 * Target Board
1 * Remote Controller
2 * Battery
1 * Battery Adapter
1 * Guideline
1 * Carrying Bag
1 * Battery Adapter
1 * Carrying Bag
Ακολουθήστε το Techmaniacs.gr στο Google News για να διαβάζετε πρώτοι όλα τα τεχνολογικά νέα. Ένας ακόμα τρόπος να μαθαίνετε τα πάντα πρώτοι είναι να προσθέσετε το Techmaniacs.gr στον RSS feeder σας χρησιμοποιώντας τον σύνδεσμο: https://techmaniacs.gr/feed/.