Ένα έξυπνο κουδούνι πόρτας υπάρχει αυτή τη στιγμή διαθέσιμο σε προσφορά στο tomtop το γνωστό κατάστημα με το οποίο συνεργαζόμαστε.tomtop Πιο συγκεκριμένα η τιμή του αγγίζει τα 12.82 ευρώ και μεταξύ άλλων υποστηρίζει την αποστολή ειδοποιήσεων στο smartphone μόλις κάποιος πατήσει το κουδούνι, όπου μπορείς να αρχίσεις τη videoσυνομιλία.
Αγόρασέ το από το tomtop στα 12.82 ευρώ
Ακόμη όταν κάποιος πιέσει το κουδούνι, θα λάβει φωτογραφία του επισκέπτη και θα τη σώσει στο cloud για να μπορείς να την δεις μέσω της εφαρμογής. Δεν απουσιάζει τέλος το Night Vision.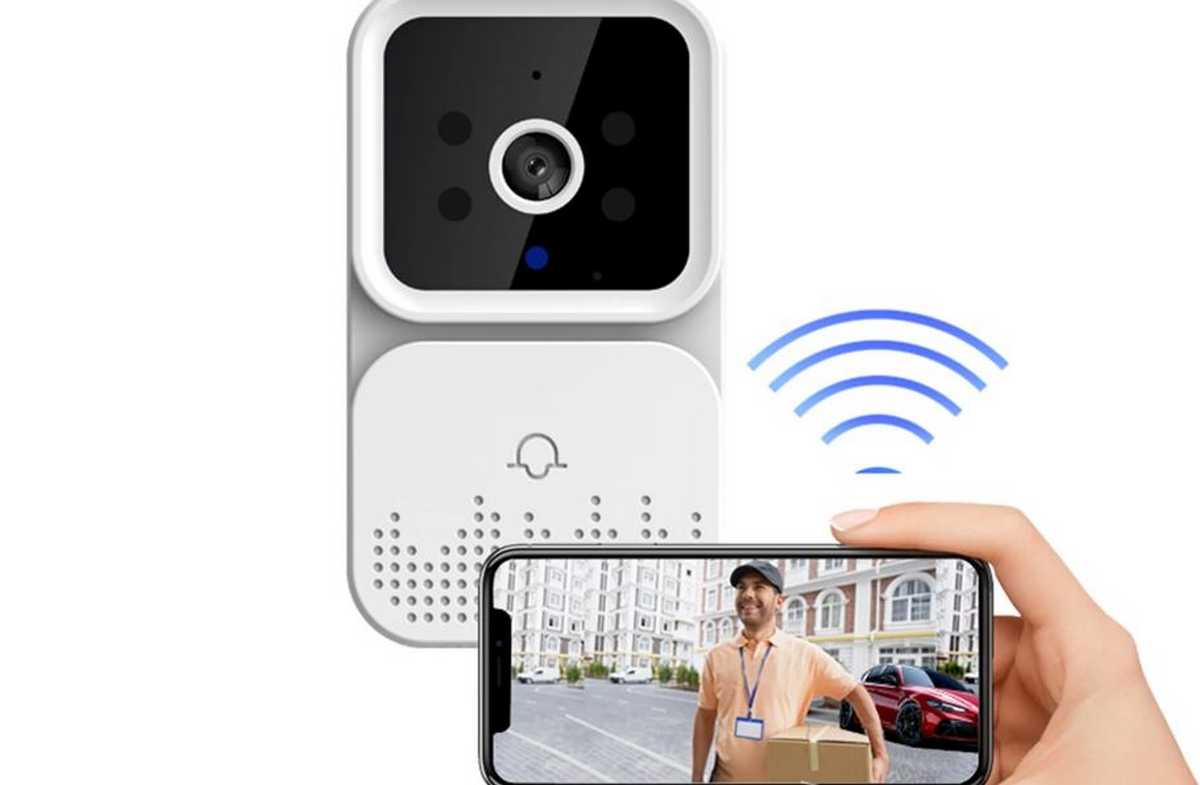 Features:
Video Call: Easy to deal with visiting guests, when someone presses the doorbell, the doorbell will push notification to the phone, and the owner can enter the phone video conversation interface.
Portable Installation: Can be pasted and perforated. Support adhesive backing, no need to punch holes, while supporting hole punch installation. No plugging, convenient and hassle-free.
Capture Screen: Storage to the cloud, security protection drip. When a visitor presses the doorbell, it can capture the visitor's picture and save the record to the cloud, so that the cell phone APP can view the past pictures at any time, which is safer and more secure.
Wireless Video Doorbell Camera: Support 2.4G WiFi and APP connection, 480P high resolution, presenting you clearer pictures & videos and more details.
2-Way Audio: With built-in mic, you can see and talk to your visitors at anytime and anywhere.
Night Vision: Built-in high-quality IR LED lamp beads and light sensor, the picture is clear at night; also can automatically switch to night mode from day mode after the ambient light drops down to 2 Lux. Strong and stable signal, easy to pair up, transmission range up to 50 meters, ring tones and volume can be adjusted according your preference.
Specification:
Name: Smart Doorbell
Material: ABS Plastic Electronic Components
APP:ulooka
Color: White
Max. Resolution: VGA, 640*480
Video Coding Standard: MJEPG
Audio Coding Standard: G711.A
Video Frame Rate: [email protected]
Day/ Night Mode Switch: Automatic
Video Transmission Encryption: AES
Radio Frequency Coding: EV1527
Infrared Lamp Control: Automatic, Adjustable Sensitivity
Infrared Lamp Wave Length: 850nm
Motion Detection: Automatic, Adjustable Aensitivity
Connection Mode: 2.4G WiFi
Working Temperature: -10~45℃
Working Humidity: ≤95%
Doorbell Battery Capacity: 3*AAA(Without)
Ακολουθήστε το Techmaniacs.gr στο Google News για να διαβάζετε πρώτοι όλα τα τεχνολογικά νέα. Ένας ακόμα τρόπος να μαθαίνετε τα πάντα πρώτοι είναι να προσθέσετε το Techmaniacs.gr στον RSS feeder σας χρησιμοποιώντας τον σύνδεσμο: https://techmaniacs.gr/feed/.